Mission SCC
The advances of smart city infrastructure spark an increasing interest in digital twins for cities using the plethora of new sensors that will be deployed across the city to monitor the urban environment.
In normal operation, the digital twin provides an overview of the current state of the city.
During disaster scenarios, the digital twin of the city will be able to provide emergency services with an overview of the situation, increasing their effectiveness and supporting them in planning their course of action.
Our smart digital control center will provide a system with both, permanent stationary sensors and mobile on-demand agents to deliver a comprehensive overview of a crisis situation.
Contact Us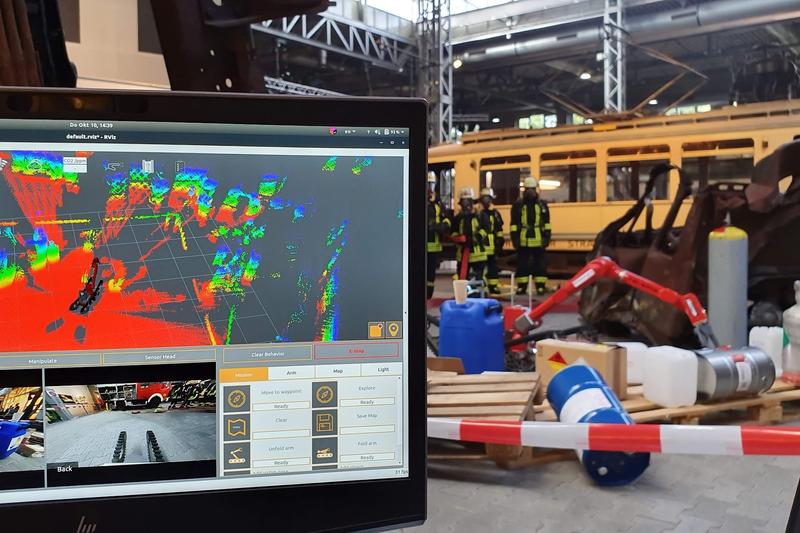 In order to retrieve the situation overview of particular areas, mobile agents such as unmanned ground vehicles and unmanned aerial vehicles are used. They are able to provide an overview of a situation from different perspectives in environments too dangerous for humans due to their maneuverability and wide array of sensors.
The recorded and processed data by the mobile agents are augmented by a network of smart street lamps.
For creating, updating and interacting with the situation overview with up-to-date as well as recorded data, we collaborate with the knowledge base mission .
Research Question
How can the multi-modal information in a city during a crisis be acquired, processed, and displayed user-friendly in an efficient and legally compliant manner to support emergency responders?
Program Areas in the Mission